Axiome Concept offers a management and optimization solution for smart cities wishing to improve the comfort and safety of their citizens. Thanks to our intelligent supervisor, you will be able to establish a management strategy for the mobility of your users. Monitor and measure the functioning of your city with precision and efficiency. Alarms, surveillance cameras, parking, temperature … Benefit from cutting-edge technology to become a smart city.
Axiome Concept supervision at the service of Smart Cities
We are witnessing the digital transformation of cities wishing to use information and communication technologies to improve the quality of urban services, protect the environment or even reduce costs.
The Axiome Concept supervisor responds to all these new demands and allows the supervision of a whole set of systems such as public lighting, signage, CCTV cameras, smart sensors (water management, pollution peak, noise level , etc), and finally all the systems related to urban parking.
All these technical elements go back and are used on a single supervision interface. Our supervisor facilitates the management and analysis of site operating conditions thanks to its intuitive ergonomics and ease of use.
The user will have an interface allowing him to have a global view of the operation and automation of the sites.
The data collected are of various kinds:
Alarms (failure, abnormal shutdown, measurement when a threshold is exceeded, etc.)
States (operation of equipment, position, command feedback, etc.)
Measurements (temperature, operating time, number of breakdowns, etc.)
Smart city technology allows city officials to directly interact with community and urban infrastructure and monitor the city and its evolution. Information and communication technologies (ICT) are used to improve the quality, performance and interactivity of urban services, reduce costs and consumption of resources, and increase contacts between citizens and government.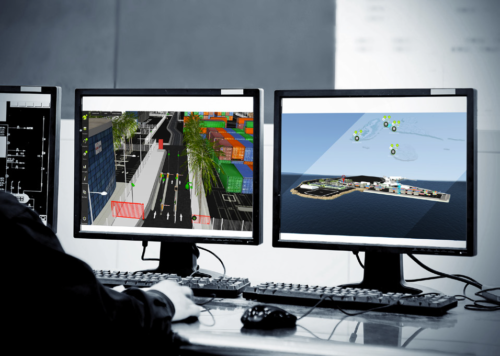 What's a Smart City ?
A smart city is a municipality that uses information and communication technologies (ICT) to increase its operational efficiency, share data and information with the public, with the aim of improving both the quality of services municipal authorities and the well-being of citizens. The main mission of a smart city is to centralize and thus optimize the city's services. All of this is done by improving the quality of people's lives, through smart technology, and data analysis. The added value of a smart city is determined by the use of technology.
The characteristics of a smart city
Intelligent lighting management that saves energy
Coupled with vehicle or person detection by sensor, or through video analysis, we can intelligently control the lighting of a site from the Axiome Concept supervisor. In addition to classic lighting control, we can define a brightness threshold in certain areas depending on the presence or absence of users.
At a time when environmental issues are paramount, energy savings gains are essential for the preservation of future generations. This can be achieved by smart sensors, allowing smart street lights to turn off when there are no cars or pedestrians on the roadway. Smart grid technology can be used to improve operations, maintenance and planning, as well as to deliver energy on demand and monitor power outages.
Smart city initiatives also aim to address environmental concerns such as air pollution and climate change. Waste management and sanitation can also be improved with our smart supervision. For example, by using connected bins, or sensors to measure the quality of drinking water.
Building and infrastructure management
This is to allow the manager to have a global view of the operation and automation of a building or an industrial installation. The data collected are of various kinds:
Alarms (failure, abnormal shutdown, measurement exceeding a threshold, etc.)
States (operation of a device, position, command feedback, etc.)
Measurements (temperature, operating time, number of breakdowns, etc.
The supervised equipment can be among others:
The power supply (TGBT, switchboards
Lighting
Vertical circulations
Heating, ventilation and air conditioning (HVAC)
Plumbing (lift pumps, tanks, etc.)
Access control
Video surveillance
Fire devices (extinguishing alarms)
It is by interfacing with most devices on the market that Axiome Concept provides a solution allowing the operator to centralize all his equipment on a single, reliable, fast and intuitive interface.
Incident management
In the event of an incident or major event on the site, our supervision tool is configured to generate different scenarios and guides staff in applying the procedures to be applied.
For example, when a fire alarm is triggered, the supervisor will raise a fire alarm, geolocate it in the building, activate the nearest video camera in order to resolve the doubt, and display the procedure to be followed in the event of fire. If the fire is confirmed, automatic actions can be activated through the procedure, such as activating smoke extraction, controlling elevators or even automatically opening the UGIS (emergency exits management unit).
The fact of automating all the actions and computerizing the procedures makes it possible to support the people in charge in a more serene management of events.
On-street traffic and parking management
Effectively manage parking to provide more comfort to motorists seeking to park and access their homes, work or leisure activities.
Optimizing road traffic to avoid traffic jams thanks to the data collected which makes it possible to optimize the condition of the roads according to the hours of passage.
Manage public urban transport to coordinate services and meet user needs in real time to improve overall satisfaction. Carpooling, bicycles or self-service cars are services that a smart city can offer and optimize.