Access control is a security system that is efficient, simple and economical
It determines who has access to your building and when.
.Axiome Protech offers an access control system with a door-to-door architecture. Reliable and scalable, it adapts to your environment, meets everyone's needs, you can add doors as your site grows or transforms.
Access permissions
Usage reports
Anti Pass-Back
Calendar management
Integration of intrusion alarms
Confinement
Programming by sector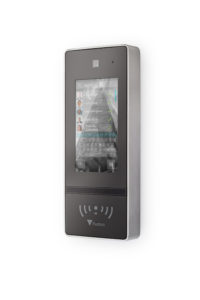 Simple and centralized management of access rights
We offer you a centralized access control administered from one or more PC.
It offers centralized administration for all your sites regardless of their size.
Create personalized access privileges, for a group of users or an individual, quickly and easily using our ntuitive software.
Event reports can be generated with just a few clicks.
Integrated access control
In addition to contactless readers, or code keypads, our access control can take the form of a handle integrated into your door.
Battery powered, the unit integrated in a handle combines a networked access control system with secure wireless technology and a stylish proximity reader.
An ideal solution for interior doors because it is based on smart, wireless technology.
It easily replaces any existing handle.
In-line wireless system
Battery management
Easily replaceable LRG batteries
Communication ensured by Net2air technology
Version with manual opening key
Robust mechanical design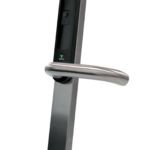 Quick and easy installation
It communicates with the server PC using Net2Air technology over a wireless gateway. It does not require any wired connection either for its power supply or for communications with the central system. Complete management system compatible with MIFARE® card.
Original and neat design, our equipment blends perfectly with your environment to create a harmonious whole. A modern and refined style is offered to you in all our product ranges.