Thanks to a collaboration with our local partner SOTERIA, we were able to imagine a disinfection cab with hyper adaptable intelligence with french eletronics.
A unique product  in France today for it's multiple function and its connectivity.
Last year, we were able to supply the Jamel Comedy Club, theCannes Series and the Cannes Film Festival with our modelsn arranged in networks, with metering and gauge control solutions.
Today, we equip many sectors such as : collectivities, supermarkets, retirement homes, farms, logistics center, medical and vaccination centers and many others…
Health : 
Imagined during the Covid-19 crisis, the safety cab combines several actions :
Non-contact dispensing of hydro-alcoholic gel
Recognition of wearing a mask
Infrared temperature measurement
Double UVC amps
Ozone emitter
Electrostatic dry mist with natural french disinfectant standardized virucides, bactericides and fungicides
To guarantee the effectiveness and the non-dangerousness of the chosen disinfection protocol, all the systems and products used have been validated by Doctor Alain Burr, Research officer at the national center for scientific research (CNRS).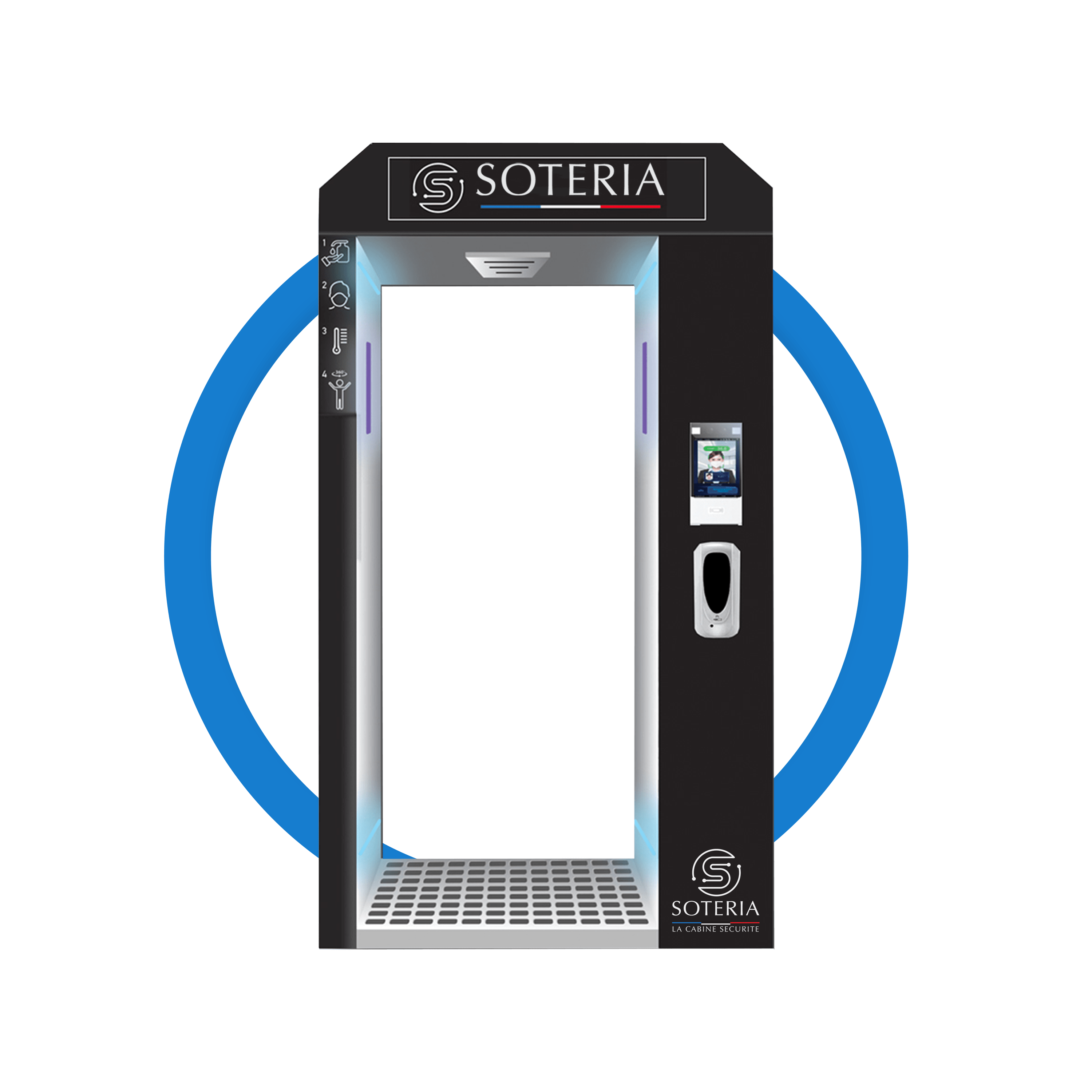 SECURITY :
Thanks to a scalable technology, the cab has :
People counting
Predefined gauge alerts 
Badges, QRcodes and barcodes reader
Shows and events ticket reader
Networked, communicating cabs
Customizable statistics
Access control
Multilingual and cutomizable voice messages
Control of ther devices via a smartphone and a dedicated application
Door opening command
Features adaptables to your industry
CE certified material (European conformity)
French ASS
SIMPLICITY :
Able to meet many needs in various situations, our SOTERIA cab benefits from a quick and easy installation :
Small footprint, less than one square meter on the ground
Monobloc cab : easy movement
Disinfectant filling available to all
Power supply via a single 220V socket
Connectable via a network socket, WI-FI or 4G
Possible management of a network of cabs
Adaptable to your business
Permanent stock in department 06 in France
Programming and control of your cab before departure by one of our specialized technicians
Quick delivery
SPECIFICITIES :
Width : 120 centimeter
Depth : 80 centimeter
Height : 230 centimeter
Passage width : 80 centimeter 
Pwwer supply : 220Volts – 10Ampere
Wi-Fi, 4G, network
Disinfectant capacity : 30 liters 4800 passages without refill
Gel capacity : 1 liter
Wattage : 600W
Mobility reduced access, accessible with a stretcher (EHPAD, Fire department access)
CE certified (European conformity)
SIGNAGE :
Our cab offer the possibility of customization :
Large « Covering » surface for your brand, your event, your partners
Large color LED screen to broadcast safety or promotionnal messages controllable by smartphone