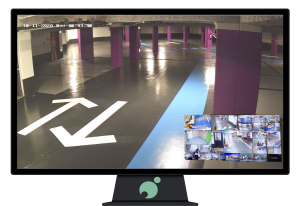 Provideal is equipping and renovating the Antibes Les Pins car park.
The Antibes les Pins car park was acquired in 2020 by an investor. Wishing to strengthen the security of his new complex site communicating with homes or commercial areas, the owner wanted to surround himself with a team of local professionals with experience in the parking field.
Provideal was therefore consulted for this call for tenders for video surveillance equipment.
Having already carried out video surveillance and guidance at the Place du Center Commercial Olympie in Antibes, Provideal was then selected from among several candidates to carry out this project.
In order to best meet our client's expectations, we supported him in this project and kept as much as possible part of the existing installation.
The final installation includes 53 cameras with three 32-inch screens for viewing. This installation also makes it possible to redirect the images to the security PC of the building complex.
After renovating the car park, and in particular its reception area, we proposed securing this space by installing an AX PRO anti-intrusion system from HIK VISION. This enables comprehensive security processing from a single mobile application.
Finally, to complete our support, we submitted a CERFA-type file to request authorization for a video protection system from the competent authorities. Our installations were carried out according to the technical standards defined by the order of August 3, 2007.